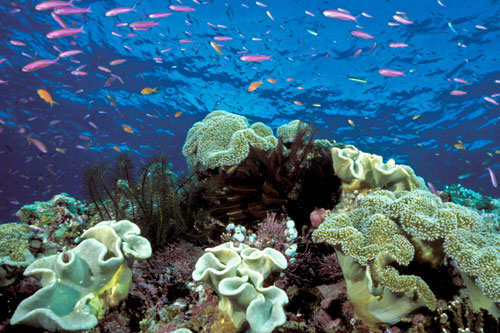 Kerry Crisley is an Associate Director of Strategic Communications at The Nature Conservancy with a focus on our marine work.
My aunts Lorraine and Helen. My childhood friend, Amy. My grandfather. My neighbor, Bill. My colleague. All of these people near and dear to my heart have battled cancer, some successfully, some not.
And it's not just me. We all have someone close to us who have gone through this terrible disease. We walk, run, bike and swim at events in their honor to support efforts to find a cure. And we should; it's that important.
There's something else we can do that can help preserve the building blocks of new, and potentially life-saving, medicines. We can save our coral reefs.
May is National Cancer Research Month, and much of the research that sustains our hope for a cure begins in our oceans.
Why? Reefs have an incredible diversity of life – from plants, animals and fungi down to the tiniest micro-organism. And this diversity holds so much potential for medical research. In fact, we are 3 to 4 hundred times more likely to find that next big medical breakthrough in our reefs than ...

Link to original article / Continue Reading...

The Nature Conservancy is the leading conservation organization working around the world to protect ecologically important lands and waters for nature and people.