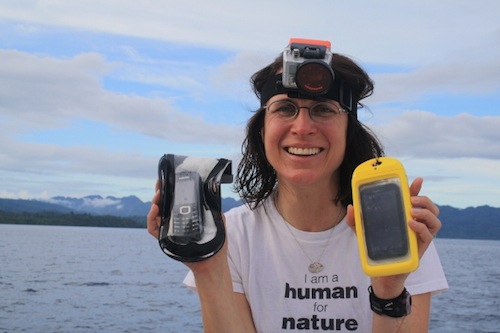 This is the third in a multi-part series chronicling the 2012 trip to monitor the health of coral reefs in Raja Ampat, Indonesia. This year, Conservancy scientists are traveling to Raja Ampat alongside colleagues from CI and WWF.
This post was authored by WWF's Helen Fox and is cross-posted on CI's blog.
As I finished up today's monitoring, I realized it was my 1000th dive. Hard to believe, as I've been spending most of my work time indoors in front of the computer or in meeting rooms these days. Such a great feeling to be out in the field and diving again, looking at beautiful corals as part of understanding reef resilience.
We're hoping to apply lessons learned from the Bird's Head Seascape in another amazing region of Indonesia: the Sunda Banda Seascape. This global conservation priority region stretches from just below the Bird's Head of Papua southwest to Bali, spanning an area of about half the size of the continental United States. In thinking about how we will create a regional monitoring and evaluation plan, we want to bring together information from universities, government agencies and local NGOs. On this trip, we are trying some ...

Link to original article / Continue Reading...

The Nature Conservancy is the leading conservation organization working around the world to protect ecologically important lands and waters for nature and people.